Abstract School interventions to address sexual orientation discrimination can be important tools for fostering inclusive school climate, and improving student wellbeing. In this study, we empirically evaluated a film-based intervention, Out in Schools, designed to reduce sexual orientation prejudice and foster inclusive school attitudes. Our evaluation mapped data about Out in Schools presentations onto student […]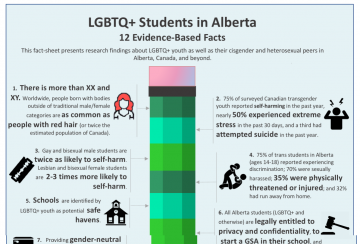 Read and download the full fact-sheet as a PDF here.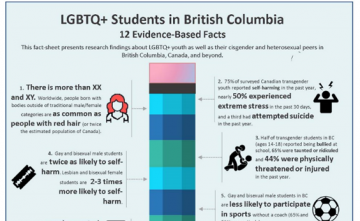 Read and download as a PDF here.
Abstract Background: Sexual minority young people have demonstrated higher rates of emotional distress and suicidality in comparison to heterosexual peers. Research to date has not examined trends in these disparities, specifically, whether there have been disparity reductions or increases and how outcomes have differed over time by sex and sexual orientation group. Methods: Minnesota Student […]
Abstract Sexual exploitation of children and adolescents is a pressing, yet largely under-recognized form of child abuse. The goals of this review were to identify interventions that have been implemented with sexually exploited children and adolescents and to better understand their effectiveness for fostering healing with this population. Our systematic search generated 4,358 publications of […]
Abstract Background: Transgender (trans) youth who identify outside the gender binary are a growing subpopulation. In this article, we document differences in access to gender-affirming health care between binary and non-binary identified trans youth and explore ways of meeting the health needs of non-binary youth within primary care settings. Methods: The Canadian Trans Youth Health Survey is […]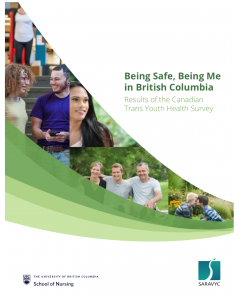 The Canadian Trans Youth Health Survey was a national online survey conducted by researchers from several Canadian universities and community organizations. The survey included somewhat different questions for younger (14-18 years) and older (19-25 years) trans youth about a wide range of life experiences and behaviours that influence young people's health. This report is focused […]
Abstract Unhealthy weight control behaviors (UWCBs) have been decreasing for most youth over time, yet little is known whether these behaviors have changed for sexual minority (e.g., non-heterosexual) youth. This is important because many studies have found that sexual minorities report some of the highest rates of UWCBs. To determine whether or not these behaviors […]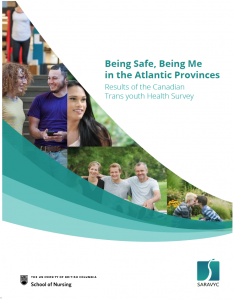 The Canadian Trans Youth Health Survey was a national online survey conducted by researchers from several Canadian universities and community organizations. This report specifically examines trans youth located in the Atlantic Provinces. The survey included 122 participants from the Atlantic Provinces and used somewhat different questions for younger (14-18 years) and older (19-25 years) trans […]