The University of British Columbia is leading a survey called "Asking about sex, gender, and youth health: A pilot study."

Are you between the ages of 13 – 18?

Do you live in Canada?
We want to hear from you!
This survey asks about your health behaviours. Take the survey at https://saravyc.ubc.ca/SexGenderSurvey.
Make sure your voice is heard!

To help protect yours and others' anonymity, please do not tag, like, publicly name, respond directly, or comment on this post. Sharing this poster does not imply participation. The Principle Investigator for this study is Dr. Elizabeth Saewyc, elizabeth.saewyc@ubc.ca.

L'Université de la Colombie-Britannique mène une enquête intitulée « Questions sur le sexe, le genre et la santé des jeunes : étude pilote ».

Avez vous de 13 à 18 ans?

Vivez-vous au Canada?
Nous aimerions mieux vous connaître!
Cette enquête porte sur vos comportements liés à la santé. Participez-y en vous rendant sur https://saravyc.ubc.ca/SexeGenreEtude.
ASSUREZ-VOUS DE VOUS FAIRE ENTENDRE

Pour nous aider à préserver votre anonymat et celui d'autrui, veuillez ne pas étiqueter cette publication ni la nommer publiquement ni la commenter ni y indiquer de mention « j'aime » ni y répondre directement. La transmission de cette publication ne suppose pas la participation. La chercheuse principale dans le cadre de cette étude est Elizabeth Saewyc, elizabeth.saewyc@ubc.ca.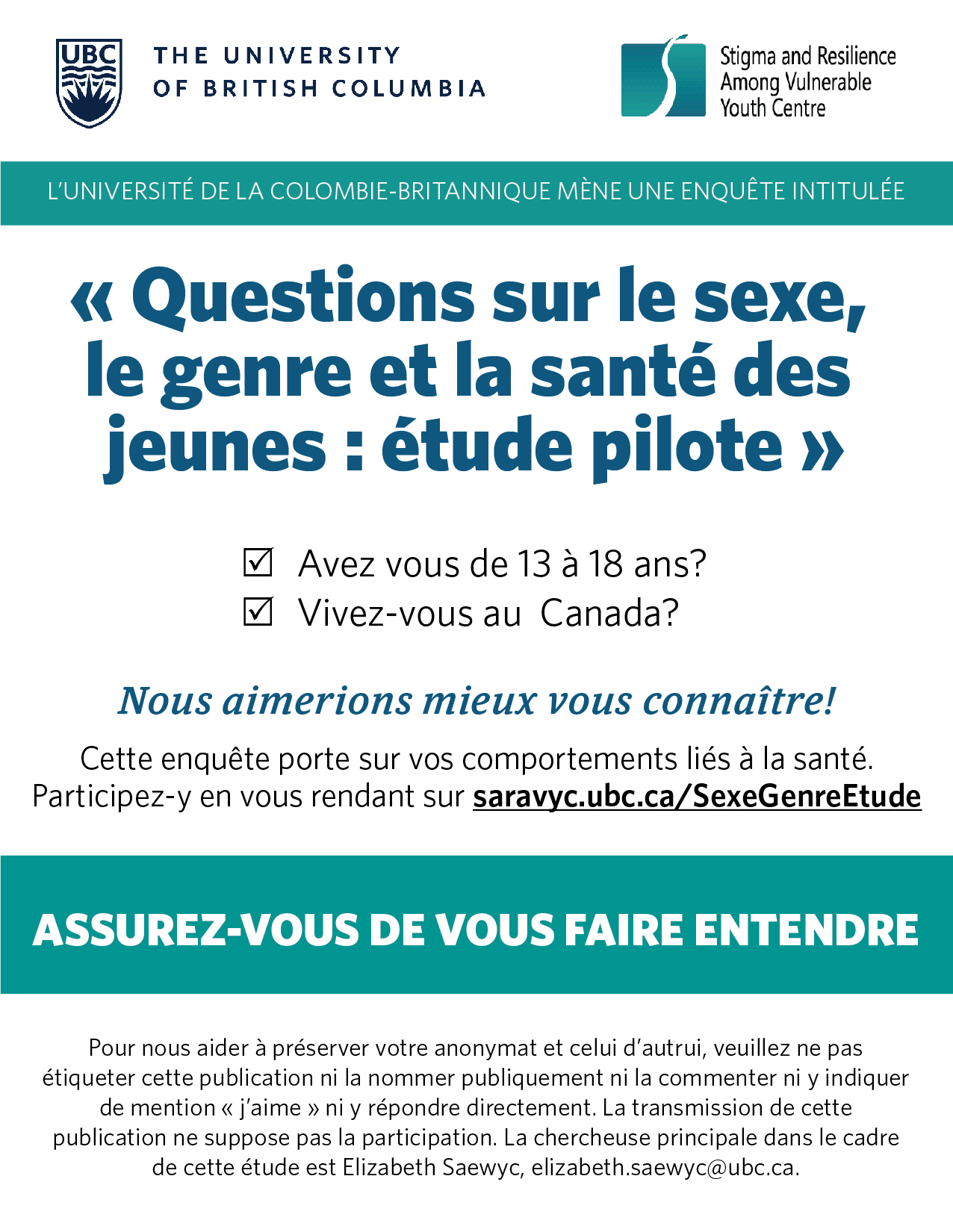 We are recruiting for three advisory committees: one for South Asian parents, one for East Asian parents, and one for parents in general.
Are you:
Born in Canada or currently living in Canada for at least one year
The parent of a youth who is:

Two Spirit, lesbian, gay, bisexual, or queer
Age 15 to 25 (up to 30 for South Asian youth)
Has lived in Canada for at least one year
Then we'd like to hear from you in our upcoming parent advisory committees.
We want to learn about the coming out experiences of youth in Canada, and that includes hearing from parents. As an advisory member, you will help us formulate the focus group materials and test the online discussion platform. You will be compensated with a $50 gift certificate for your participation.
To sign up for an advisory committee, please contact Shannon Millar at saravyc@nursing.ubc.ca.