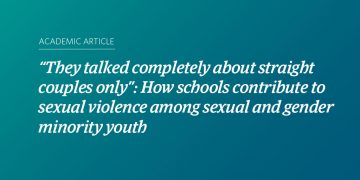 This study examined contextual factors shaping sexual violence victimisation and perpetration among sexual and gender minority youth, with school playing a key role. Based on qualitative data from semi-structured interviews with 50 young people aged 14–26 years who self-reported sexual violence perpetration in the Growing Up with Media survey, the analysis demonstrates how schooling's 'hidden curriculum' leaves sexual and gender minority youth ill-equipped to navigate the world of sexuality.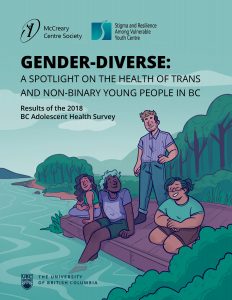 Gender-Diverse: A Spotlight on the Health of Trans and Non-Binary Young People in B.C. provides a profile of the health of gender-diverse youth in British Columbia (BC). The report uses data from the 2018 BC Adolescent Health Survey (BC AHS), which is one of the most reliable, comprehensive health surveys of adolescents ages 12–19 in public schools in BC.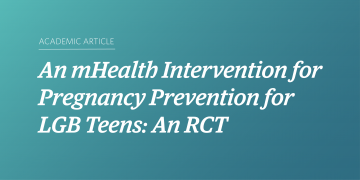 Although lesbian, gay, bisexual and other sexual minority (LGB+) girls are more likely than heterosexual girls to be pregnant during adolescence, relevant pregnancy prevention programming is lacking. Girl2Girl appears to be associated with increases in pregnancy preventive behaviors for LGB+ girls, at least in the short-term. Comprehensive text messaging–based interventions could be used more widely to promote adolescent sexual health behaviors across the United States.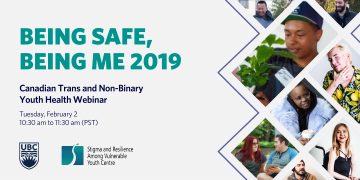 How is access to gender-congruent ID related to mental health outcomes? Does having a primary care provider increase access to gender affirming care and does this access change depending on the level of comfort towards the primary care provide? What is the link between Canadian provincial health services policy and access to gender affirming care? Join us for a webinar on February 2nd where we discuss the research behind these questions.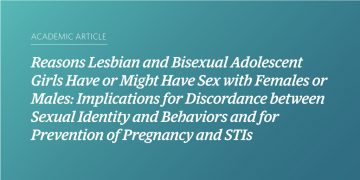 We examined reasons lesbian and bisexual adolescent girls have sex or, if sexually inexperienced, might have sex with girls or boys, and the role of internalized homonegativity in these relations and among lesbians.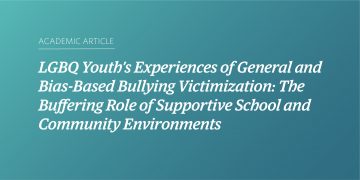 Lesbian, gay, bisexual, queer, and questioning (LGBQ) adolescents experience large disparities in an array of health problems and bullying experiences. Supportive LGBTQ community and school climates may protect LGBQ youth from general and bias-based bullying victimization.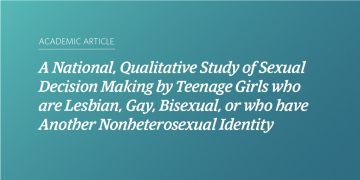 To address the significant dearth of literature that examines how girls who are lesbian, gay, bisexual, or who have another nonheterosexual identity (LGB+) decide when and with whom to have sex; and to explore why inexperienced LGB+ girls might have sex with girls or boys.
We're pleased to welcome Dr. Ronita Nath as our new Managing Director at SARAVYC . Ronita will be leading the team to develop real world interventions and support the development of evidence-based recommendations for government, schools, and health professionals to reduce health inequities for marginalized youth.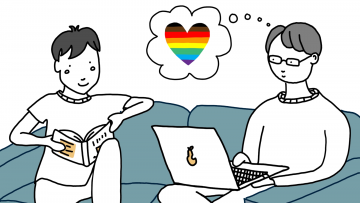 We're excited to announce that we've just launched a series of video resources for East Asian parents. It's a family guide for supporting teen sexual orientation filmed in five languages: Cantonese, Mandarin, Korean, Japanese, and English.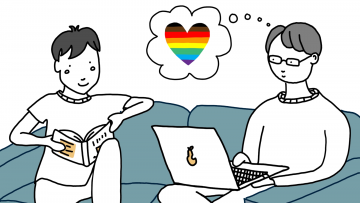 A video resource to support East Asian lesbian, gay, and bisexual youth and their families. Available in Cantonese, Mandarin, Korean, Japanese, and English. The series features three videos, each with a specific action that parents can take to support their teen's sexual orientation.