Abstract Research at the intersection of substance use and protective factors among transgender youth is scarce; emerging evidence suggests high risk for substance use for transgender youth. We analyzed data from 323 transgender youth aged 14–18 ( M age = 16.67) to investigate the extent that risk (enacted stigma) and protective factors (support from family, school, friends) […]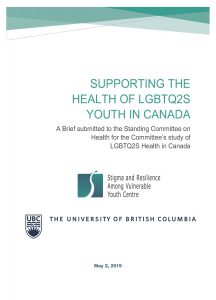 The federal government invited briefings regarding the health of LGBTQ2S+ Canadians. As a research centre dedicating to improving health equity among stigmatized and vulnerable youth, we recognized this as a vital opportunity to contribute our expertise and draw attention to the specific needs of LGBTQ2S+ youth in Canada.
New analytical methods show long-term effects, even for straight students Gay-straight alliances (GSAs) help make schools safer for students the longer they are in place, even among straight students, finds new research from the Stigma and Resilience Among Vulnerable Youth Centre at the University of British Columbia. "We found that students' feelings of safety at […]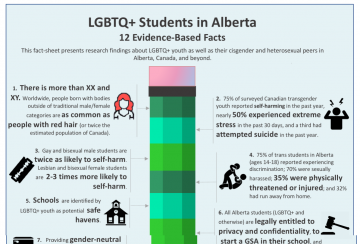 Read and download the full fact-sheet as a PDF here.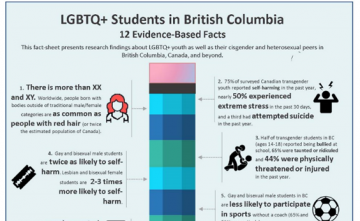 Read and download as a PDF here.
Abstract In this study, we examine how lesbian, gay, bisexual, transgender, and queer (LGBTQ) youth, who tend to experience greater feelings of isolation and discrimination than heterosexual youth, find and become integrated into supportive activities and resources. As part of a larger study on supportive lesbian, gay, bisexual, transgender, and queer youth environments, 66 go-along […]
Abstract Background: Sexual minority young people have demonstrated higher rates of emotional distress and suicidality in comparison to heterosexual peers. Research to date has not examined trends in these disparities, specifically, whether there have been disparity reductions or increases and how outcomes have differed over time by sex and sexual orientation group. Methods: Minnesota Student […]
Abstract Sexual exploitation of children and adolescents is a pressing, yet largely under-recognized form of child abuse. The goals of this review were to identify interventions that have been implemented with sexually exploited children and adolescents and to better understand their effectiveness for fostering healing with this population. Our systematic search generated 4,358 publications of […]
Abstract Mental health challenges are the leading health issue facing youth globally. To better respond to this health challenge, experts advocate for a population health approach inclusive of mental health promotion; yet this area remains underdeveloped. Further, while there is growing emphasis on youth-engaged research and intervention design, evidence of the outcomes and impacts are […]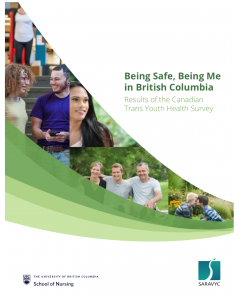 The Canadian Trans Youth Health Survey was a national online survey conducted by researchers from several Canadian universities and community organizations. The survey included somewhat different questions for younger (14-18 years) and older (19-25 years) trans youth about a wide range of life experiences and behaviours that influence young people's health. This report is focused […]