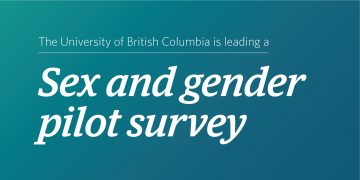 The University of British Columbia is leading a survey called "Asking about sex, gender, and youth health: A pilot study." L'Université de la Colombie-Britannique mène une enquête intitulée « Questions sur le sexe, le genre et la santé des jeunes : étude pilote ».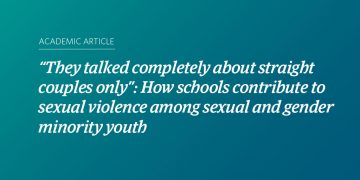 This study examined contextual factors shaping sexual violence victimisation and perpetration among sexual and gender minority youth, with school playing a key role. Based on qualitative data from semi-structured interviews with 50 young people aged 14–26 years who self-reported sexual violence perpetration in the Growing Up with Media survey, the analysis demonstrates how schooling's 'hidden curriculum' leaves sexual and gender minority youth ill-equipped to navigate the world of sexuality.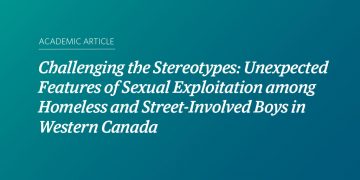 Research about the sexual exploitation of homeless and street-involved boys is limited and often combined with that of girls. As aggregation can distort unique issues among genders which are exploited, this study provides information about the context of exploitation for homeless boys.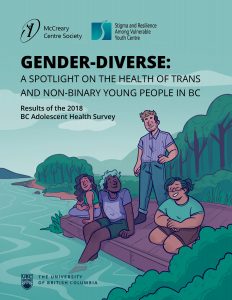 Gender-Diverse: A Spotlight on the Health of Trans and Non-Binary Young People in B.C. provides a profile of the health of gender-diverse youth in British Columbia (BC). The report uses data from the 2018 BC Adolescent Health Survey (BC AHS), which is one of the most reliable, comprehensive health surveys of adolescents ages 12–19 in public schools in BC.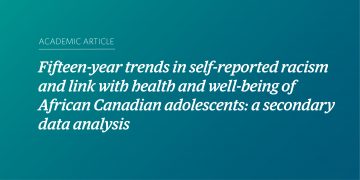 We assessed the prevalence and trends in racial discrimination among African Canadian adolescents in British Columbia. The association between racial discrimination and self-rated health, access to mental health services, substance use, suicidal thoughts and attempts, experience of extreme stress, among others were examined within the 2018 dataset.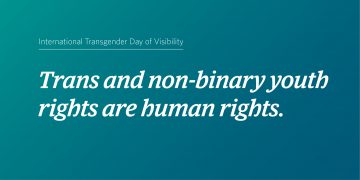 International Transgender Day of Visibility is a day to celebrate trans folks and raise awareness about the discrimination and violence that targets them. On Transgender Day of Remembrance, we shared some of the challenges trans and non-binary youth are faced with. Today, we'd like to share some of the ways that trans and non-binary youth feel supported.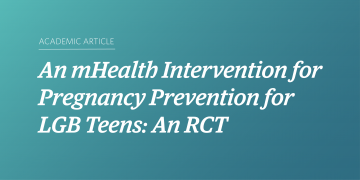 Although lesbian, gay, bisexual and other sexual minority (LGB+) girls are more likely than heterosexual girls to be pregnant during adolescence, relevant pregnancy prevention programming is lacking. Girl2Girl appears to be associated with increases in pregnancy preventive behaviors for LGB+ girls, at least in the short-term. Comprehensive text messaging–based interventions could be used more widely to promote adolescent sexual health behaviors across the United States.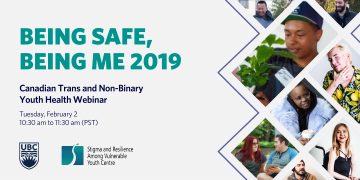 How is access to gender-congruent ID related to mental health outcomes? Does having a primary care provider increase access to gender affirming care and does this access change depending on the level of comfort towards the primary care provide? What is the link between Canadian provincial health services policy and access to gender affirming care? Join us for a webinar on February 2nd where we discuss the research behind these questions.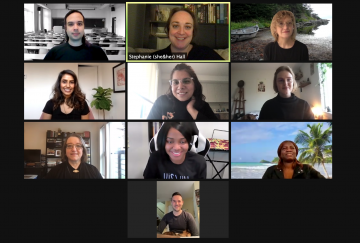 Today our team is wearing black in solidarity with Black Shirt Day, a day "in recognition of the struggle for civil rights fought by Black and racialized Canadians." We support the Anti-Racism Coalition of Vancouver's petition to name January 15 as Black Shirt Day.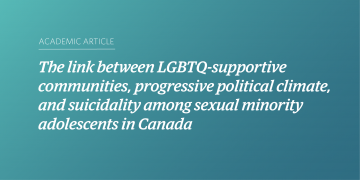 Despite supportive structural changes to reduce stigma towards lesbian, gay, and bisexual, transgender, queer, and questioning (LGBTQ) Canadian residents, sexual minority youth still face disparities compared to heterosexual peers. We aimed to characterize LGBTQ-supportive environments and political climates, and examine their links to suicidal behavior among sexual minority adolescents in western Canada.