Archives by date
You are browsing the site archives by date.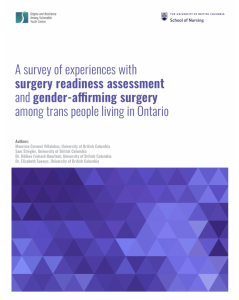 This report is based on data from the Canada-wide Gender-Affirming Surgery Experience Survey. The survey was originally designed through a partnership between the Stigma and Resilience Among Vulnerable Youth Centre (SARAVYC) at the University of British Columbia and Trans Care BC, and resulted in a first report focused on British Columbia, which was published in […]

The National Inventory of School System Interventions for LGBTQ Student Well-being and School Connectedness was designed to evaluate the effectiveness of school-system interventions in reducing stigma and improving resilience of lesbian, gay, bisexual, transgender and Two-Spirit, and queer and questioning (LGBTQ) students. The goal of this study was to identify which interventions have been […]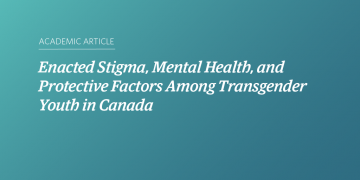 Abstract Purpose: We aimed to assess the Minority Stress Model which proposes that the stress of experiencing stigma leads to adverse mental health outcomes, but social supports (e.g., school and family connectedness) will reduce this negative effect. Methods: We measured stigma-related experiences, social supports, and mental health (self-injury, suicide, depression, and anxiety) among a sample […]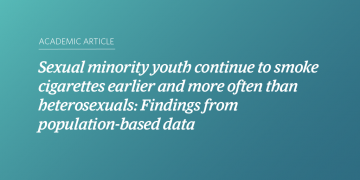 Abstract Background: An established body of research documents that sexual minority (i.e., lesbian, gay, and bisexual) populations are at higher risk for several adverse health behaviors and outcomes compared to their heterosexual counterparts. Smoking is one behavior where the gap is especially large, particularly among youth. Researchers have increasingly drawn attention to contextual determinants of […]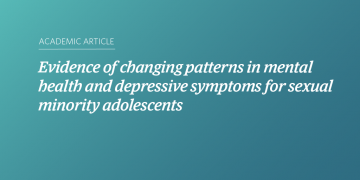 Abstract Depression, sadness, low self-esteem, and self-harm affect a substantial number of young people in North America. However, the prevalence of these symptoms has been found to be consistently higher for sexual minority (i.e., lesbian, gay, bisexual) populations. In this study, we traced the trends and disparities in mental health, including self-harm, forgone mental health […]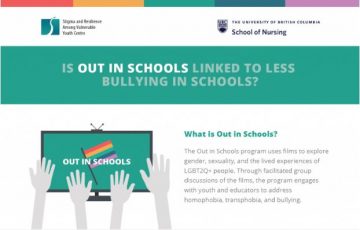 The Out In Schools program uses films to explore gender, sexuality, and the lived experiences of LGBT2Q+ people.
SARAVYC is one of only 9 in BC (75 Canada) to be successful in the grant competition and received $2,994,951 to continue our valuable work.
Our research on LGB youth participation in sports has been covered by several news outlets. It's the first of its kind.