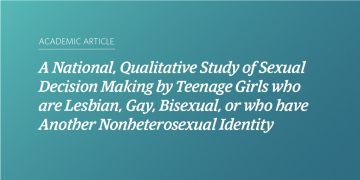 To address the significant dearth of literature that examines how girls who are lesbian, gay, bisexual, or who have another nonheterosexual identity (LGB+) decide when and with whom to have sex; and to explore why inexperienced LGB+ girls might have sex with girls or boys.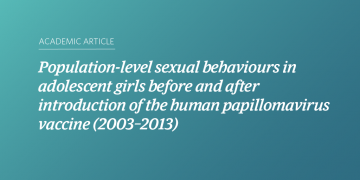 Abstract The human papillomavirus (HPV) vaccine is delivered widely through school-based immunization programs. Some groups have expressed concern that HPV vaccination programs will result in an increase in sexual risk-taking behaviours among adolescents. We aimed to evaluate population-level changes in sexual behaviours before and after implementation of the school-based HPV vaccination program in British Columbia. […]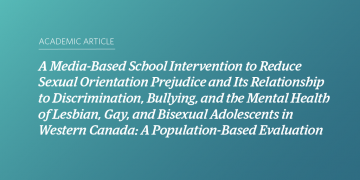 Abstract School interventions to address sexual orientation discrimination can be important tools for fostering inclusive school climate, and improving student wellbeing. In this study, we empirically evaluated a film-based intervention, Out in Schools, designed to reduce sexual orientation prejudice and foster inclusive school attitudes. Our evaluation mapped data about Out in Schools presentations onto student […]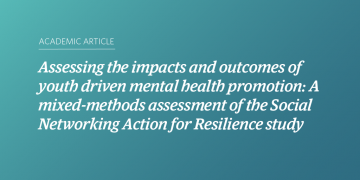 Abstract Mental health challenges are the leading health issue facing youth globally. To better respond to this health challenge, experts advocate for a population health approach inclusive of mental health promotion; yet this area remains underdeveloped. Further, while there is growing emphasis on youth-engaged research and intervention design, evidence of the outcomes and impacts are […]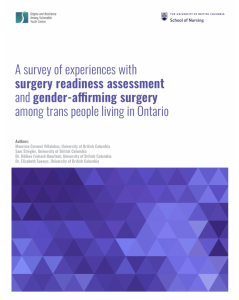 This report is based on data from the Canada-wide Gender-Affirming Surgery Experience Survey. The survey was originally designed through a partnership between the Stigma and Resilience Among Vulnerable Youth Centre (SARAVYC) at the University of British Columbia and Trans Care BC, and resulted in a first report focused on British Columbia, which was published in […]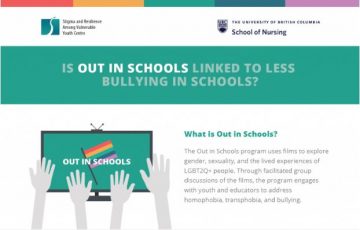 The Out In Schools program uses films to explore gender, sexuality, and the lived experiences of LGBT2Q+ people.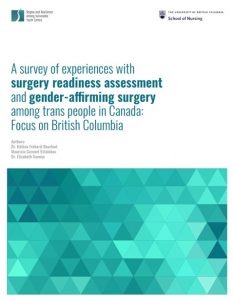 The Gender-Affirming Surgery Experience Survey in BC is the result of a collaboration between the Stigma and Resilience Among Vulnerable Youth Centre (SARAVYC) at the University of British Columbia, and Trans Care BC, a program of the Provincial Health Services Authority. Trans Care BC's role is to enhance the coordination and availability of trans health […]
The Qualitative Study of Gender-Affirming Surgery Experiences in BC is the result of a collaboration between the Stigma and Resilience Among Vulnerable Youth Centre (SARAVYC) at the University of British Columbia, and Trans Care BC, a program of the Provincial Health Services Authority. Trans Care BC's role is to enhance the coordination and availability of […]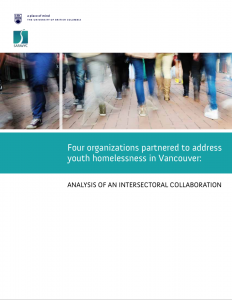 In the mid-2000's, health care and social service providers in Vancouver witnessed street-involved youth with undiagnosed and/or under-treated mental illnesses repeatedly entering their services in a state of chaos and crisis. They had no means of intervening with youth through the housing and mental health systems. In an attempt to break this cycle and fill […]