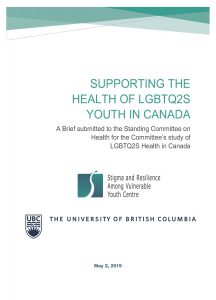 The federal government invited briefings regarding the health of LGBTQ2S+ Canadians. As a research centre dedicating to improving health equity among stigmatized and vulnerable youth, we recognized this as a vital opportunity to contribute our expertise and draw attention to the specific needs of LGBTQ2S+ youth in Canada.
Abstract School interventions to address sexual orientation discrimination can be important tools for fostering inclusive school climate, and improving student wellbeing. In this study, we empirically evaluated a film-based intervention, Out in Schools, designed to reduce sexual orientation prejudice and foster inclusive school attitudes. Our evaluation mapped data about Out in Schools presentations onto student […]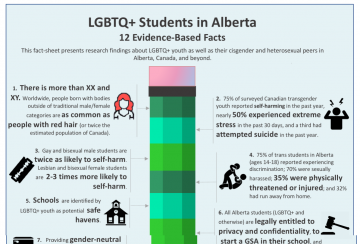 Read and download the full fact-sheet as a PDF here.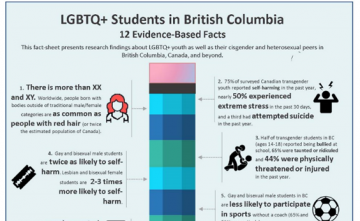 Read and download as a PDF here.
Abstract Sexual exploitation of children and adolescents is a pressing, yet largely under-recognized form of child abuse. The goals of this review were to identify interventions that have been implemented with sexually exploited children and adolescents and to better understand their effectiveness for fostering healing with this population. Our systematic search generated 4,358 publications of […]
Abstract Background: Transgender (trans) youth who identify outside the gender binary are a growing subpopulation. In this article, we document differences in access to gender-affirming health care between binary and non-binary identified trans youth and explore ways of meeting the health needs of non-binary youth within primary care settings. Methods: The Canadian Trans Youth Health Survey is […]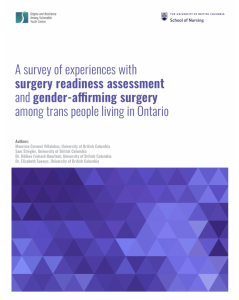 This report is based on data from the Canada-wide Gender-Affirming Surgery Experience Survey. The survey was originally designed through a partnership between the Stigma and Resilience Among Vulnerable Youth Centre (SARAVYC) at the University of British Columbia and Trans Care BC, and resulted in a first report focused on British Columbia, which was published in […]
Abstract Background: An established body of research documents that sexual minority (i.e., lesbian, gay, and bisexual) populations are at higher risk for several adverse health behaviors and outcomes compared to their heterosexual counterparts. Smoking is one behavior where the gap is especially large, particularly among youth. Researchers have increasingly drawn attention to contextual determinants of […]
Abstract Depression, sadness, low self-esteem, and self-harm affect a substantial number of young people in North America. However, the prevalence of these symptoms has been found to be consistently higher for sexual minority (i.e., lesbian, gay, bisexual) populations. In this study, we traced the trends and disparities in mental health, including self-harm, forgone mental health […]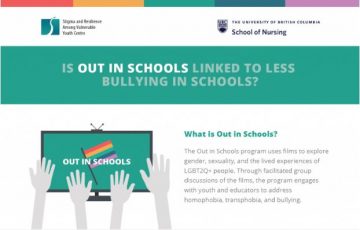 The Out In Schools program uses films to explore gender, sexuality, and the lived experiences of LGBT2Q+ people.