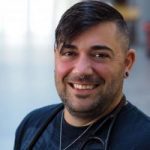 Indigenous Two Spirit Advisory, SARAVYC
Nurse Practitioner, Indigenous Primary Health and Wellness Home, FRAFCA
Fin Gareau is a trans, Indigenous Two Spirit Nurse Practitioner originally from Prince Albert, Saskatchewan, who fully embraces the importance of community reciprocity. He has worked with gender diverse adults and youth and their families for over 15 years. His previous work included outreach/street nursing in the downtown eastside of Vancouver and he has worked as an NP in Island Health. Fin currently works at the Indigenous Primary Health and Wellness Home out of the Friendship Centre in Surrey BC (FRAFCA). He is honoured to be granted the privilege of providing primary health care for urban Indigenous community, and to trans and non-binary community as well. One of Fin's current focuses in his practice is to work to identify and deconstruct persistent colonized structures and ideologies of health within dominant medical systems, specifically in Indigenous and trans health care in BC.