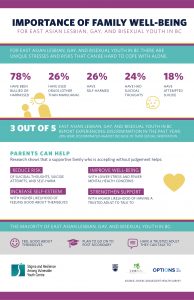 Sexual orientation can be hard to talk about. Many people find it confusing and potentially complex. For many parents, it's especially uncomfortable to talk about sexuality with their kids, but small steps go a long way. The team at SARAVYC has designed a resource for East Asian parents as part of our research in tracking […]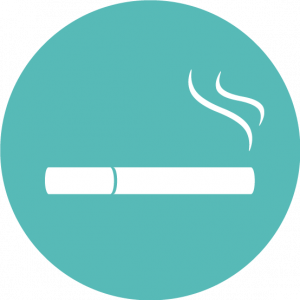 Trans youth in Canada face high levels of violence, and this can contribute to substance use. However, research at SARAVYC showed that even when transgender youth experience high levels of violence or discrimination, a supportive family and safe school can make a difference. Specifically, strong family and school connections are helping prevent transgender youth from […]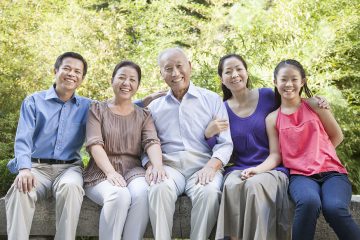 A Workshop for East Asian Parents & Caregivers:
Talking about sexual orientation can be hard, but small steps go a long way. Research shows that a supportive family who is accepting without judgement helps reduce health risks, improve well-being, and raise self-esteem for youth. This means that understanding and respecting your child's sexual orientation makes a real difference in their lives.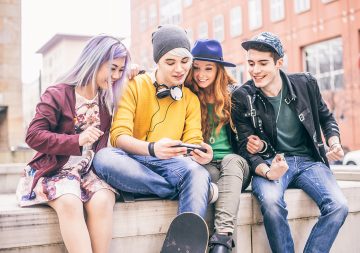 Resilience in spite of stigma Today is the International Day against Homophobia, Biphobia, and Transphobia (IDAHOBIT). Gender-based violence disproportionately affects people who identify as LGBTQ2S+ and gender non-conforming individuals. Trend analyses of the province-wide BC Adolescent Health Survey tell us that lesbian, gay, or bisexual youth are three to six times more likely to experience […]
New analytical methods show long-term effects, even for straight students Gay-straight alliances (GSAs) help make schools safer for students the longer they are in place, even among straight students, finds new research from the Stigma and Resilience Among Vulnerable Youth Centre at the University of British Columbia. "We found that students' feelings of safety at […]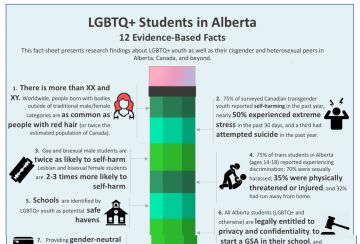 Read and download the full fact-sheet as a PDF here.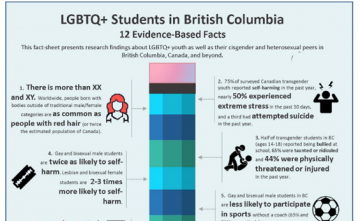 Read and download as a PDF here.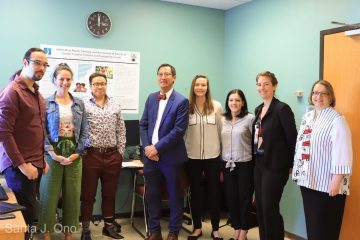 We were very pleased to introduce our wonderful team to the gracious President of UBC, Dr. Santa Ono during his visit to our Centre!
We are very pleased to announce that SARAVYC has received a 2018 Michael Smith Foundation for Health Research/BC Centre for Excellence in HIV/AIDS Reach award! This highly competitive program provides funding to support the dissemination of evidence to inform and improve further research, practice and policy-making activities. SARAVYC will use this funding to collaborate with Options for […]