Archives by date
You are browsing the site archives by date.
Growing up with Media is the only national US longitudinal survey of youth designed to study the emergence of sexual violence (SV) perpetration in adolescence. It began in 2006 to examine the long-term linkages between exposure to violent media and the subsequent expression of violent behaviors among 1,600 youth. In 2010, when the youth […]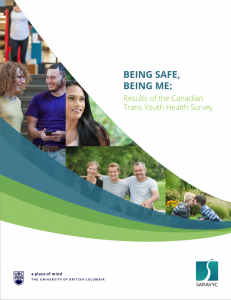 A  national study by SARAVYC showed that while Canada's transgender youth face significant physical and mental health issues, strong family, school and community connections help many of them navigate these challenges. The study, funded by the Canadian Institute for Health Research and completed in collaboration with universities and health researchers across Canada, was the first […]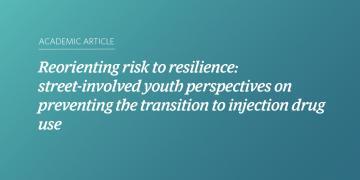 Abstract Background: The Youth Injection Prevention (YIP) project aimed to identify factors associated with the prevention of transitioning to injection drug use (IDU) among street-involved youth (youth who had spent at least 3 consecutive nights without a fixed address or without their parents/caregivers in the previous six months) aged 16–24 years in Metro Vancouver, British Columbia. […]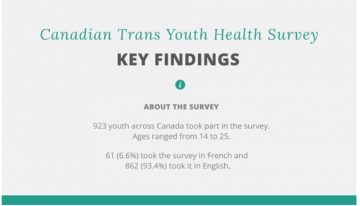 Two infographics from the 2014 Canadian Trans Youth Health Survey. One infographic outlines the key findings from the survey while the other outlines the recommendations.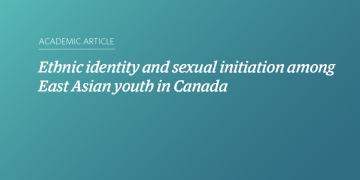 Abstract Despite the large number of East Asian youth in Canada, little is known about their health and risk behaviors. We examined the relationship between ethnic identity and sexual initiation among East Asians. This secondary analysis of a population-based survey selected 4,311 students in 7-12th grades who described themselves as East Asian (e.g., Chinese, Japanese, […]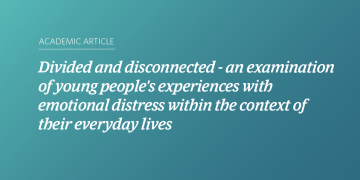 Abstract This paper is based on a qualitative study conducted in a rural community in British Columbia, Canada. Ethnographic methods were used to: (1) to bring youth voice to the literature on emotional distress; and (2) to capture the ways in which context shapes young peoples' experiences of emotional distress within their everyday lives. Our […]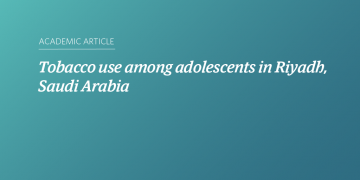 Abstract Initiation of smoking behavior during adolescence is associated with negative health outcomes. Understanding initiation of smoking behavior in adolescents in relation to other behavioral, health, and environmental factors is essential for effective behavioral modification. The aim of this study was to describe tobacco use behaviors among adolescents in Riyadh, Saudi Arabia, and related demographic […]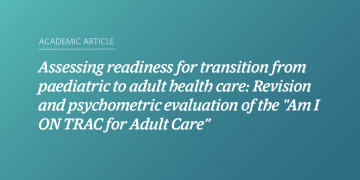 Abstract Aim: To refine and psychometrically test the Am I ON TRAC for Adult Care questionnaire. Background: Inadequate transition to adult care for adolescents with special healthcare needs has been associated with greater risk of treatment non-adherence, lack of medical follow-up, increased morbidity and mortality. Presently, there are no well-validated measures assessing adolescents' readiness to transition from […]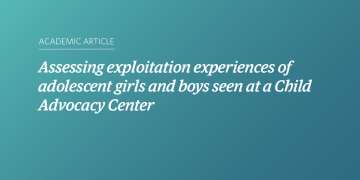 Abstract The primary aim of this study was to describe the abuse experiences of sexually exploited runaway adolescents seen at a Child Advocacy Center (N = 62). We also sought to identify risk behaviors, attributes of resiliency, laboratory results for sexually transmitted infection (STI) screens, and genital injuries from colposcopic exams. We used retrospective mixed-methods with in-depth […]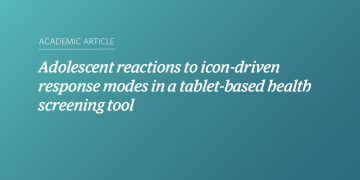 Abstract Increasingly popular touch-screen electronic tablets offer clinics a new medium for collecting adolescent health screening data in the waiting area before visits, but there has been limited evaluation of interactive response modes. This study investigated the clarity, comprehensibility, and utility of icon-driven and gestural response functions employed in one such screening tool, TickiT. We […]