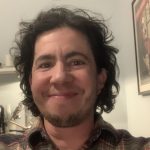 Research Assistant, SARAVYC
Clinical Research Specialist, Division of Adolescent Medicine, Boston Children's Hospital
Eli/Glen (he/him) has admired SARAVYC's work from south of the border for several years, so he's thrilled to be joining SARAVYC as a practicum student. He will be working on the RCY project, studying the experiences of gender minority youth in British Columbia. Eli is also a part-time research specialist at Boston Children's Hospital and a member of the Harvard SOGIE Health Equity Research Collaborative. He serves as a member of the Institutional Review Board at The Fenway Institute and as a speaker about LGBTQ+ issues with SpeakOUT Boston. Eli's research interests lie at the intersections of gender, adolescent health, educational environments, measurement, and political/legal epidemiology. In his non-academic time, he enjoys curling, skiing, and just about any other endeavour on frozen water.