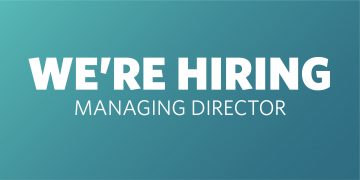 We are seeking an energetic and motivated leader to help lead and support a large, interdisciplinary team of researchers working to create new interventions and provide evidence-based recommendations to government, schools, and health professionals. As part of a five-year project you will lead the coordination of team members conducting online focus groups with youth and parents, help develop and pilot interventions, as well as ensure other projects' findings are released to the public on time and with national media attention.
Abstract The human papillomavirus (HPV) vaccine is delivered widely through school-based immunization programs. Some groups have expressed concern that HPV vaccination programs will result in an increase in sexual risk-taking behaviours among adolescents. We aimed to evaluate population-level changes in sexual behaviours before and after implementation of the school-based HPV vaccination program in British Columbia. […]
Abstract School interventions to address sexual orientation discrimination can be important tools for fostering inclusive school climate, and improving student wellbeing. In this study, we empirically evaluated a film-based intervention, Out in Schools, designed to reduce sexual orientation prejudice and foster inclusive school attitudes. Our evaluation mapped data about Out in Schools presentations onto student […]
Abstract Mental health challenges are the leading health issue facing youth globally. To better respond to this health challenge, experts advocate for a population health approach inclusive of mental health promotion; yet this area remains underdeveloped. Further, while there is growing emphasis on youth-engaged research and intervention design, evidence of the outcomes and impacts are […]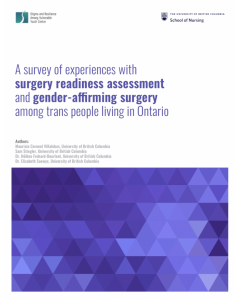 This report is based on data from the Canada-wide Gender-Affirming Surgery Experience Survey. The survey was originally designed through a partnership between the Stigma and Resilience Among Vulnerable Youth Centre (SARAVYC) at the University of British Columbia and Trans Care BC, and resulted in a first report focused on British Columbia, which was published in […]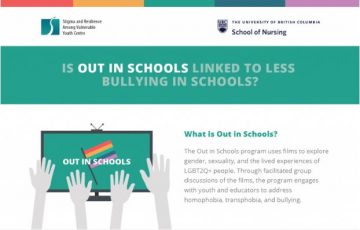 The Out In Schools program uses films to explore gender, sexuality, and the lived experiences of LGBT2Q+ people.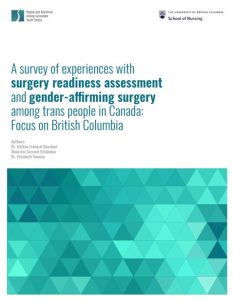 The Gender-Affirming Surgery Experience Survey in BC is the result of a collaboration between the Stigma and Resilience Among Vulnerable Youth Centre (SARAVYC) at the University of British Columbia, and Trans Care BC, a program of the Provincial Health Services Authority. Trans Care BC's role is to enhance the coordination and availability of trans health […]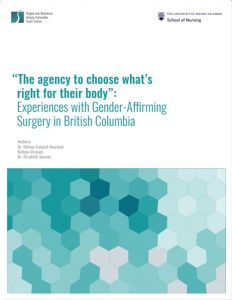 The Qualitative Study of Gender-Affirming Surgery Experiences in BC is the result of a collaboration between the Stigma and Resilience Among Vulnerable Youth Centre (SARAVYC) at the University of British Columbia, and Trans Care BC, a program of the Provincial Health Services Authority. Trans Care BC's role is to enhance the coordination and availability of […]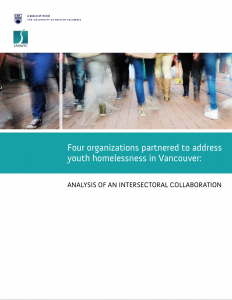 In the mid-2000's, health care and social service providers in Vancouver witnessed street-involved youth with undiagnosed and/or under-treated mental illnesses repeatedly entering their services in a state of chaos and crisis. They had no means of intervening with youth through the housing and mental health systems. In an attempt to break this cycle and fill […]