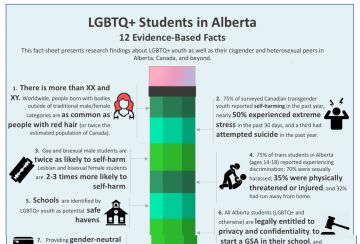 Read and download the full fact-sheet as a PDF here.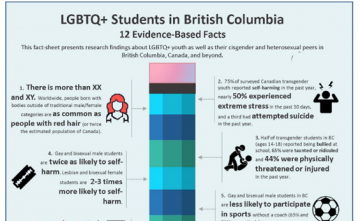 Read and download as a PDF here.
Abstract In this study, we examine how lesbian, gay, bisexual, transgender, and queer (LGBTQ) youth, who tend to experience greater feelings of isolation and discrimination than heterosexual youth, find and become integrated into supportive activities and resources. As part of a larger study on supportive lesbian, gay, bisexual, transgender, and queer youth environments, 66 go-along […]
Abstract Mental health challenges are the leading health issue facing youth globally. To better respond to this health challenge, experts advocate for a population health approach inclusive of mental health promotion; yet this area remains underdeveloped. Further, while there is growing emphasis on youth-engaged research and intervention design, evidence of the outcomes and impacts are […]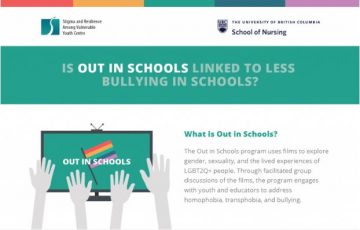 The Out In Schools program uses films to explore gender, sexuality, and the lived experiences of LGBT2Q+ people.
Abstract Purpose: Sports participation and physical fitness are widely beneficial for young people, yet activity levels among young people are declining. Despite growing popular media attention on the participation of sexual minority (e.g., lesbian, gay, and bisexual) youth in sports and various campaigns to improve the often homophobic climate of sports, there is limited evidence that […]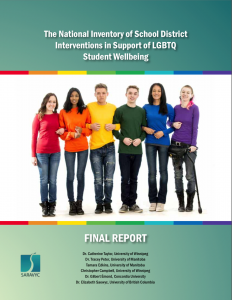 The National Inventory of School District Interventions in Support of LGBTQ Student Wellbeing was one of five research areas in a large project funded by a $2 million grant from the Canadian Institutes for Health Research and headed by Dr. Elizabeth Saewyc at University of British Columbia, "Reducing stigma, promoting resilience: Population health interventions for […]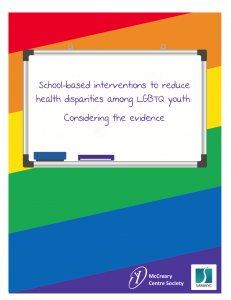 There is a need for health promotion interventions for LGBTQ youth that can reduce critical health gaps that LGBTQ youth experience. Schools are an important environment for youth, and a key place where public health professionals, partnering with school staff, can support effective health promotion strategies. Indeed, some of the best strategies for promoting youth […]