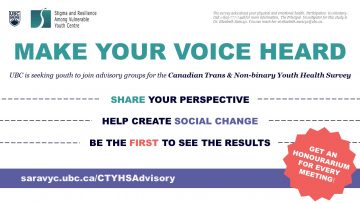 Over 1,750 youth across the country participated in the Canadian Trans & Non-Binary Youth Health Survey. Now, we're looking to youth to help shape a national report that will share the experiences of trans and non-binary youth. There are seven youth advisory groups taking place across Canada. At SARAYVC, we're recruiting for British Columbia and rural/territories. You will be among the first to see the results of the survey, share your perspective, and help create social change alongside other teens.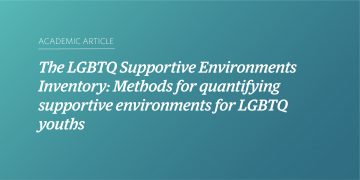 Abstract The social environment in which lesbian, gay, bisexual, transgender, and queer (LGBTQ) youths live influences health and well-being. We describe the development of the LGBTQ Supportive Environments Inventory (LGBTQ SEI), designed to quantify the LGBTQ-inclusiveness of social environments in the United States and Canada. We quantify aspects of the social environment including: (1) presence/quality […]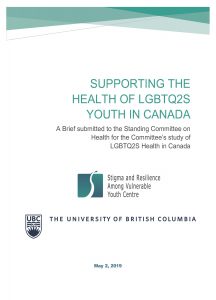 The federal government invited briefings regarding the health of LGBTQ2S+ Canadians. As a research centre dedicating to improving health equity among stigmatized and vulnerable youth, we recognized this as a vital opportunity to contribute our expertise and draw attention to the specific needs of LGBTQ2S+ youth in Canada.
Abstract School interventions to address sexual orientation discrimination can be important tools for fostering inclusive school climate, and improving student wellbeing. In this study, we empirically evaluated a film-based intervention, Out in Schools, designed to reduce sexual orientation prejudice and foster inclusive school attitudes. Our evaluation mapped data about Out in Schools presentations onto student […]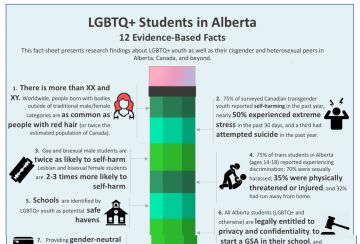 Read and download the full fact-sheet as a PDF here.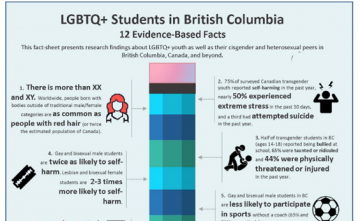 Read and download as a PDF here.
Abstract Physical dating violence (PDV) victimization among adolescents is a serious global problem. Although knowledge of trends in PDV victimization can help guide programming and health policies, little research has examined whether the prevalence of PDV victimization has increased, decreased, or remained stable over time among non-U.S.-based samples of youth. In addition, few studies have […]
Abstract Purpose: Using data from a national qualitative study of lesbian, bisexual, and other sexual minority adolescent girls in the U.S., this study examined their awareness of the risk of sexually transmitted infection (STI) and opportunities for barrier use. Methods: Online asynchronous focus groups were conducted with lesbian and bisexual (LB) girls ages 14–18 years. Girls were […]
The Canadian Trans Youth Health Survey was a national online survey conducted by researchers from several Canadian universities and community organizations. The survey included somewhat different questions for younger (14-18 years) and older (19-25 years) trans youth about a wide range of life experiences and behaviours that influence young people's health. This report is focused […]